What is included in Rapid Implementation for Dynamics 365 Business Central?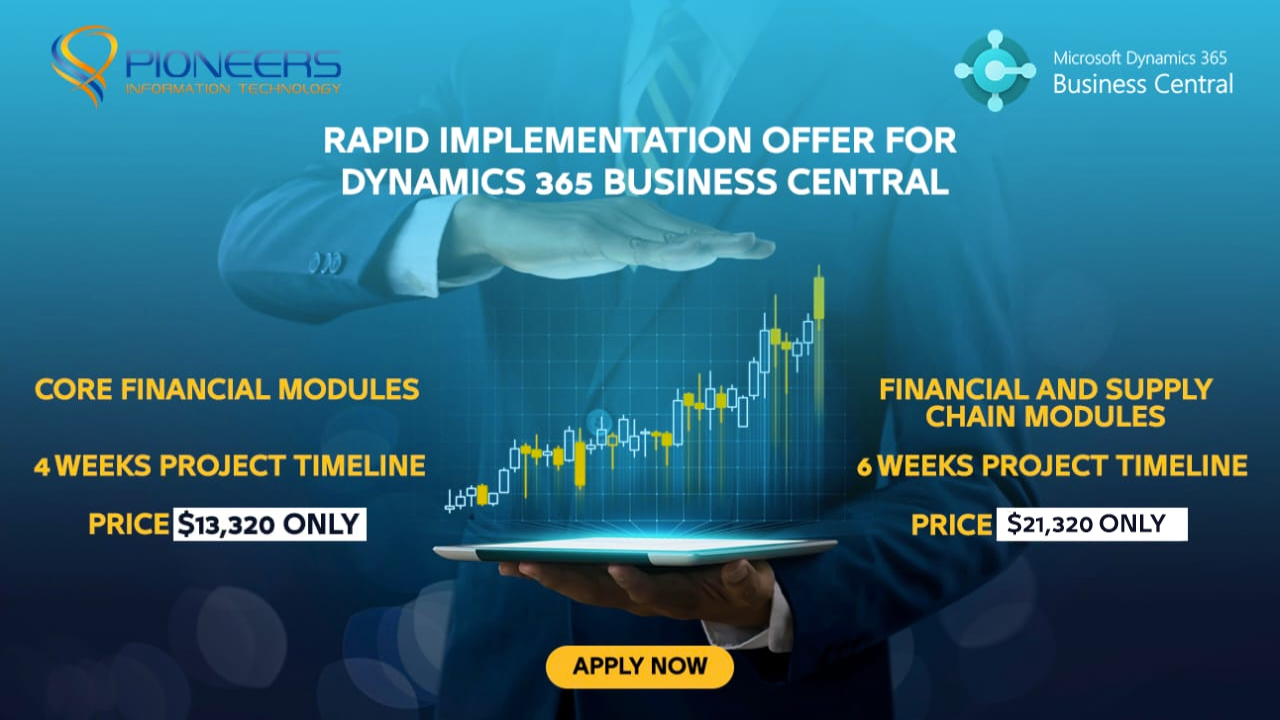 Microsoft Dynamics 365 Business Central is a comprehensive cloud-based business management solution designed for small and medium-sized enterprises. It includes a vast array of capabilities for managing fundamental business processes, including:
Business Central includes features for the general ledger, accounts payable, accounts receivable, banking, budgeting, financial management, and fixed assets.
Business Central's supply chain management capabilities include purchasing, inventory management, sales order management, and supply chain planning.
Business Central contains capabilities for project management, task costing, and time tracking.
Business Central's customer relationship administration features include sales and service administration, marketing, and customer insights for managing customer interactions.
Business Central includes functions for administering employee records, payroll, benefits, and attendance.
Business Intelligence and Reporting: Business Central includes analytics tools that enable users to obtain insight into their business performance and make decisions based on data.
Business Central integrates with other Microsoft products, such as Power BI, Office 365, and PowerApps, and allows for customization. 
Additionally, the solution is highly configurable, allowing users to modify it to meet their specific business requirements.
Microsoft Dynamics 365 is a robust cloud-based business administration solution that offers a variety of advantages to businesses of all sizes. Here are some of the most important advantages of using Dynamics 365:
All-in-one solution:
A few of the fundamental business processes that Dynamics 365's extensive feature set can manage include financial management, supply chain management, project management, customer relationship management, and more. This allows businesses to manage their essential operations in a single location, thereby increasing efficiency and reducing the need for multiple software applications.
Cloud-based:
Because Dynamics 365 is a cloud-based solution, businesses can access their data and applications from anywhere, at any time, using any internet-capable device. This facilitates employees' ability to work remotely and collaborate on projects, thereby enhancing productivity and efficiency
Scalable
The scalability of Dynamics 365 allows businesses to effortlessly add or remove users, applications, and functionalities as their needs evolve. This makes it simple for companies to adapt to shifting market conditions and expand their operations without investing in new software solutions.
Integration 
Dynamics 365 integrates seamlessly with additional Microsoft products, including Office 365, Power BI, and PowerApps. This means that businesses can utilize their existing Microsoft products to enhance their operations and obtain insight into their performance.
Customizable:
Dynamics 365 is highly customizable, allowing businesses to customize the solution to their specific requirements and workflows. This facilitates the automation of business processes, increases efficacy, and reduces manual labor.
Advanced analytics and reporting:
Dynamics 365 includes advanced analytics tools that enable businesses to obtain operational insights and make decisions based on data. This includes dashboards, reports, and predictive analytics capabilities that assist businesses in identifying patterns, trends, and opportunities.
Improved customer engagement and experience:
Dynamics 365 includes customer relationship management capabilities that enable businesses to manage their interactions with customers and enhance the overall experience. This includes sales administration, marketing automation, and customer service management capabilities.
The Microsoft Dynamics 365 platform Small and medium-sized enterprises (SMBs) in a variety of industries, including retail, manufacturing, distribution, and professional services, use Business Central.
It is especially popular among businesses that require an all-encompassing solution to manage their finances, supply chain, and consumer interactions.
Business Central is scalable, allowing it to expand alongside businesses as they expand their operations. The solution is also highly customizable, allowing businesses to customize it to their specific requirements. Overall, Business Central is a flexible and robust solution that can help SMBs increase productivity, reduce expenses, and expand their businesses.
About Rapid Go Live in 4 Weeks Implementation
An implementation of Dynamics 365 Business Central through Pioneers IT can help you be more productive and grow your business while giving you a competitive advantage. Configure your solution to your unique organization process and enable your team to adopt the new solution quickly and easily.
Pioneers IT offers a Rapid Implementation of Core Financial Modules for Microsoft Dynamics 365 Business Central customers. The project duration is estimated at 4 weeks after project kick-off. Additional 2 Weeks if Supply Chain is needed, please check the options below.
Option 1 (4 Weeks Fast Finance Set Up) 
Discovery session.

Design blueprint Document.

Activate and provision Dynamics 365 Business Central environment.

Create and Define 5 Users.

Configure the initial Dashboard.

Provide Import templates for Vendor and Customer Master Records

Set up System and Company settings for one company.

Design Chart of Account Structure with Client

Import Master Vendors and Customers from Template

Add a logo for one transactional report.

Create Default financial reports – P & L Statement, Balance Sheet, Cash Flow Statement

Train on GL, Accounts Payable, Account Receivable, AP Aging, AR Aging Inquiry

Train on Check books, Batches, GL, Inquiry, and Standard Financial Reports

Train on Fixed Assets.

Import Opening Balances for (GL, AP, AR, and FA)

Go-live review and Support.
This offer includes 5 License users only.

All the services will be provided online.

Implementation will be for the standard functionalities (out-of-the-box).

The implementation for Finance Modules Only (GL, AP, AR, Bank, Fixed Assets)

This offer is applicable for implementing one company only.

All custom functionalities and reports are not included, quoted separately.

Integration with 3rd parties is not included.

3 Days of Support on Go-live.
The business will realize a faster return on investment (ROI) as a result of rapid implementation.

The pre-configured templates and best practices will help reduce the risk of implementation errors and delays

Rapid implementation will facilitate the company's data migration to the Dynamics 365 platform in a timely and efficient manner.

The scalability of Dynamics 365 will enable the organization to readily add or remove users, applications, and functionalities as business requirements change.

By streamlining their operations and increasing their overall efficiency, rapid implementation will help the business gain a competitive advantage.
Dynamics 365's sophisticated analytics and reporting capabilities will enable the business to gain valuable insights into its operations and make decisions based on data.

By providing a centralized platform for managing customer interactions, rapid implementation will help the business enhance customer engagement and experience.
 Microsoft Dynamics 365 Business Central Rapid is a rapid and effective implementation service designed to help businesses go live on the Dynamics 365 platform within four weeks.
This service includes a variety of pre-configured templates and best practices, as well as tools for data migration, user training, and support following implementation.