introduction 
The registration of students is a crucial procedure for all educational institutions, including schools, colleges, and universities. 
The management of student registration is crucial for maintaining accurate records, facilitating efficient administrative procedures, and ensuring a seamless educational experience for both students and faculty. 
the significance of student registration solutions cannot be overemphasised in the current digital age. 
These solutions utilize technology and automation to streamline the registration process, eliminate manual documentation, and improve productivity and data accuracy.
Student registration solutions have a variety of positive effects on educational institutions. 
They begin by streamlining the entire enrollment procedure, making it more convenient and user-friendly for students and their parents or guardians. 
Online registration portals enable students to submit their information, select courses, and complete forms from the convenience of their own homes, thereby eliminating the need for lengthy lines and paperwork.
In addition, student registration solutions provide administrators with a centralized platform for managing and accessing student information. 
This allows for the efficient monitoring of student records, including personal information, academic history, medical data, and attendance records. 
Educational institutions can make informed decisions, allocate resources efficiently, and ensure compliance with regulatory requirements if they have ready access to all relevant data.
Additionally, student registration solutions enhance the institution's and students' communication. 
Students and parents can receive automated email notifications and reminders regarding upcoming deadlines, critical announcements, and required documentation. 
This enhances transparency, reduces the possibility of missed deadlines, and fosters a stronger relationship between the institution and its stakeholders.
About Student Registration Solutions:
The Student Registration Solution is a cloud-based registration, contract, and payment management solution for businesses and institutions.
These solutions seek to streamline the registration process by automating tasks such as applying, collecting data, maintaining records, following up on applications, and communicating with students and their parents via an electronic platform.
In addition to managing the process of conducting parent tours and school visits, the electronic platform also facilitates the scheduling of admission exam dates.
8 Features of Student Registration Solutions
Multiple Schools in the Same System: 
Solutions for student registration allow for the management of multiple institutions within a single system. 
This is especially advantageous for academic institutions with multiple campuses or branches.
 Administrators can easily navigate and monitor registrations, student data, and processes across multiple institutions, which simplifies the administration of a complex educational network.
Registration Web Portal for Applicants: 
A key component of student registration solutions is the provision of an applicant-friendly web portal. 
Prospective students and their parents can access and complete registration forms online through this portal. 
They can easily input their personal information, educational history, course preferences, and other required details, making registration convenient and efficient.
Individualized Learning Paths for Every Student:
Student registration solutions frequently include features that permit students to pursue individualized learning paths. 
This allows educational institutions to tailor and personalize the curriculum, course selection, and educational resources to each student's unique requirements and abilities. This personalization promotes academic success and student engagement.
Support for Different Education Systems: 
Student registration solutions are designed for educational institutions that adhere to diverse education systems, such as the British, American, and Saudi systems. 
The software can adapt to the specific requirements, assessment systems, and academic structures of each system, ensuring accurate record-keeping and streamlined registration procedures.
Payment Plans Based on Grade: 
The ability to offer payment arrangements based on a student's grade level is a crucial component of student registration solutions. 
This feature allows educational institutions to assign various payment schedules and options according to the grade or academic program in which the student is enrolled. 
It streamlines fee management and offers parents and guardians flexibility in meeting their financial obligations.
360-Degree View for Students and Parents: 
Using a 360-degree view, student registration solutions provide a comprehensive view of student information. 
This feature gives students and guardians access to a centralized dashboard that displays academic progress, attendance records, extracurricular activities, and other pertinent data. 
It fosters a holistic approach to education by improving communication and collaboration among students, parents, and educational institution
Integration with CRM System: 
Student registration solutions must feature integration with customer relationship management (CRM) systems. This integration ensures that the registration system and other administrative systems within the educational institution communicate and share data seamlessly. 
It facilitates the efficient administration of inquiries, enrollment, and student interactions, thereby enhancing operational efficiency overall.
Missing Data and Notification Management: 
Frequently, solutions for student registration include tools for managing absentee data and notifications. 
During the registration process, the system detects any incomplete or missing information and generates automated notifications to students or parents, prompting them to provide the missing information. 
This function ensures that pupil records are complete and up-to-date, thereby reducing administrative errors and enhancing data precision.
Overall, these characteristics make student registration solutions indispensable for academic institutions. 
They streamline the registration procedure, improve communication, enable personalized learning paths, support multiple education systems, facilitate payment management, provide comprehensive student views, integrate with other systems, and guarantee data accuracy and completeness. 
By utilizing these features, educational institutions can efficiently administer student registrations and provide students and parents with a seamless educational
Full and simple registration

Automated Agreements.

Online payment through the registration portal. 

  E- Signature for Agreement.

 Tours and test booking Management. 

Support for Parents' customer service portal 

Documentation history and Archiving.

support Multi-language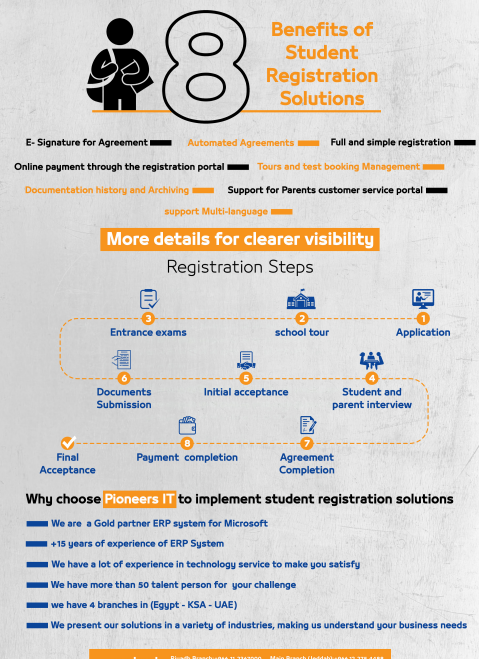 Summary
Student registration solutions provide a variety of benefits to educational institutions. 
These features include the ability to administer multiple schools within a single system, thereby providing applicants with a convenient and efficient web registration portal. 
The solutions also accommodate various education systems, such as the British, American, and Saudi systems, by allowing students to pursue individualized learning paths.
The option to construct grade-based payment plans is a notable feature that allows educational institutions to offer flexible payment options. 
The solutions also provide students and parents with a comprehensive view of student information, thereby fostering improved communication and collaboration. 
Integration with CRM systems allows for seamless data sharing and enrollment management.
Additionally, the solutions facilitate the administration of missing data and notifications, prompting students and parents to provide the necessary information.
 By utilizing these features, educational institutions can streamline the registration process, increase efficiency and data accuracy, and provide students and parents with a seamless educational experience.